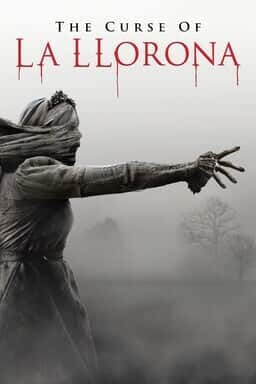 Genre:
Horror/Thriller/Mystery/Suspense
Release Date:
DVD/Blu-Ray Release Date:
Run Time:
Rating:
Directed by:
Screenplay by:
Mikki Daughtry, Tobias Iaconis
Producers:
James Wan, Richard Brener, Gary Dauberman, Dave Neustadter, Walter Hamada, Michelle Morrissey
Production Co.:
Atomic Monster,
New Line Cinema
Distribution Co.:
Social Media:
Cast:
Linda Cardellini, Roman Christou, Jaynee-Lynne Kinchen, Raymond Cruz, Sean Patrick Thomas, Patricia Velasquez,

Tony Amendola, Marisol Ramirez
Plot Summary:
The timeless Hispanic legend comes to terrifying life in "The Curse of La Llorona." She is The Weeping Woman and those who hear her death call in the night are doomed. She creeps in the shadows and preys on the children, desperate to replace her own. In 1970s Los Angeles, La Llorona is stalking the night—and the children. Ignoring the eerie warning of a troubled mother suspected of child endangerment, a social worker and her own small kids are soon drawn into a frightening supernatural realm. Their only hope to survive La Llorona's deadly wrath may be a disillusioned priest and the mysticism he practices to keep evil at bay, on the fringes where fear and faith collide.
*My Thoughts*
Note: This review contains NO spoilers
The Curse of La Lloronoa is a movie based upon the Latin American folktale of the same name. In the folktale, Llorona was a woman who caught her husband cheating and subsequently decided to drown their children. While the origins of Llorona stay the same, the movie itself was bland and forgettable. The premise of the conflict was a mother trying to protect her children from the evil spirit of Llorona. While ghost stories like these can have their own interpretations and twists, subsequently changing over and over again, The Curse of La Llorona doesn't offer anything new to the supernatural genre.
The story follows social worker and single mother, Anna Tate-Garcia who first encounters Llorona's curse through one of her clients. Llorona having drowned and killed the clients' two children then moves on to Anna and her kids, Chris and Samantha. In order to escape Llorona, Anna tries to enlist the help of Father Perez of the church to help her, but he cannot without the Vatican's approval. Instead Anna is directed to former priest Rafael Olvera, who helps spiritual cases in his own way.
Interestingly enough, Father Perez is the same priest who dealt with the porcelain doll, Annabelle, making a link to the Annabelle movie series. Aside from that small aside, The Curse of La Llorona doesn't leave many lasting impressions. It includes the same clichés: priests, a vengeful ghost, a terrified family, and a faith healer to save the day.
My Rating: