We have a cool Book Blitz to share today! We are celebrating the release of Wende Dikec's The Bodyguard, the first book in the Legacies of the Amazons series!!! We have a sneak peek into the book with a cool excerpt. Plus, there is a cool blitz-wide giveaway! Check it out and grab your copy today!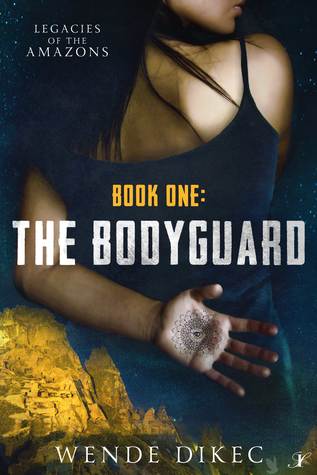 Genre:
Series:
Legacies of the Amazons, #1
Publish Date:
Publisher:
Synopsis:
Descended from a secret race of Amazon Warriors, Ana Thermadosa is not like other girls. As a student at Artemis Academy, the training grounds for a mysterious company called Cerberus Enterprises, Ana has spent her life learning what is important.
How to fight, how to win, how to kill, and, mostly importantly, how to follow orders and live up to the expectations of her powerful family.
Trained in the art of warfare since birth, now her skills are being put to the test. She's been hired to defend Jordan Banks, the wealthy son of a nefarious businessman, from kidnappers.
She despises Jordan and all he stands for, but soon comes to realize that many things in the outside word aren't as she's been led to believe. She also discovers Jordan isn't what she expected, and, against her better judgment, finds herself starting to care for him.
When disaster strikes, Ana is put in a difficult predicament. Keeping Jordan safe would mean betraying her own people and everything she believes in, but letting him die would mean betraying something even more important.
*Excerpt*
Ana froze in the doorway when he looked up at her, not sure what to do. She considered sneaking back to her room, but couldn't now that Jordan had seen her. It would seem almost cowardly. Mrs. McKelvey, unaware of her dilemma, waved her in.
"There you are, Ana. I just told Mr. Jordan that I'd hoped you'd be joining us soon."
Ana glanced at Jordan and could tell he'd been hoping for just the opposite. "It's okay. I can take a tray up to my room."
Mrs. McKelvey waved a hand to stop her. "Nonsense. You sit down right here and I'll get things ready for you. Mr. Jordan would enjoy the company."
Ana raised her eyebrows at that comment but said nothing. She sat on a bar stool, purposefully choosing the one farthest away from Jordan. He continued to eat, ignoring her completely.
Mrs. McKelvey brought her plate over. She'd made roast beef, mashed potatoes and green beans with almonds, one of Ana's favorites. There was also a big bowl of salad and homemade dinner rolls.
"This looks wonderful." Ana gave Mrs. McKelvey a huge smile. "Thank you."
About to take a bite, she caught Jordan staring at her. "What?" she asked, feeling her cheeks turn pink and hating it. "Why are you looking at me like that?"
Jordan shook his head. "It was that thing you just did with your face. I didn't know you could do that."
"Smile," he said as he took another bite of roast beef. He seemed delighted by his own joke and gave her a little wink.
**About the Author**
Wende Dikec has spent her life traveling the world, collecting stories wherever she visited. She majored in Japanese and International Economics in college and worked in import/export and as an ESL teacher before she committed herself full time to writing. She writes in several romance genres, and her books are quirky and fun. Wende is a Trekkie, a book hoarder, the master of the Nespresso machine, and the mother of three boys (probably the main reason for her caffeine addiction). A puppy named Capone is the most recent addition to her family, and she blogs about him as a way of maintaining what little sanity she has left. She is the author of Tiger Lily and Starr Valentine, and writes adult romance under the name Abigail Drake.
Stay connected with Wende Dikec
***The Giveaway***
Giveaway Open to the U.S. Only