We are thrilled to participate on this exciting Blog Tour for T.S. Hall's Sonora and the Eye of the Titans, the first book in the Sonora series! The tour will consist of various posts, including excerpts and reviews on participating blogs. Our tour stop will be of T.S. Hall's Top 10 Favorite Mythology Stories! Check it out and grab your copy today!
Follow the tour,
HERE
!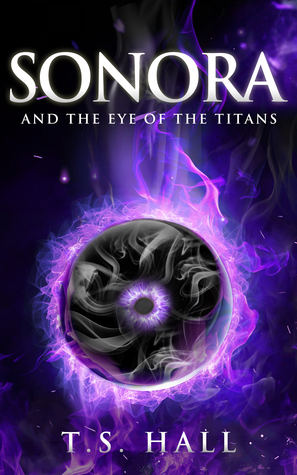 Genre:
Young Adult
Urban Fantasy
Series:
Sonora, #1
Publish Date:
January 14, 2017
(first published December 2, 2011)
Synopsis:
The King is dead, and the capital city of Titanis has fallen. The world of Sonora is at war, and the only hope against the onslaught of the Titan army lies with the last royal descendant of Zeus, who is being covertly sheltered on Earth in the secluded mountain town of Sandy, Oregon.
Allora is a shy, intelligent sixteen-year-old, trying to get through the gauntlet of high school while coming to terms with her otherworldly origins. After getting into a fight at soccer tryouts, Allora's emotions boil over, and her hands suddenly burst into flames. She has harnessed the power of hadrons at the highest level, but at extreme cost. The magical outburst projects an energy signature that is detected by a group of assassins tasked with killing Sonoran rebels.
To survive, Allora, Katie, Dax, and Tanner must find a powerful ancient artifact known as the Eye of the Titans. With the help of a guardian known as Sasquatch, they will have to fight off creatures, solve complex riddles, and navigate magical caverns, all while enduring advanced calculus, jealous girlfriends, and prom.
*FREE on Kindle Unlimited*
*T.S. Hall
's
Top 10 Favorite Mythology Stories*
1. The Iliad - Easily my favorite of all mythological stories
2. Paradise Lost - Classic story
3. Jason and the Argonauts - Classic movie
4. Hercules - Any book, movie, or story based on his life.
5. O Brother, Where Art Thou? - Coen Brothers are amazing
6. Monty Python and the Holy Grail - Because, why not?
7. Stargate - Yes, alien myths can be included, right?
8. 300 - Beautiful cinematography
9. The Bible - Whether true or not, this book has provided the basis for many stories
10. Theseus and the Minotaur - Because I'm studying this story for my third novel
~~~~~
**About the Author**
T.S. Hall is a writer, skier, and wanderer. He grew up in Portland, Oregon, but currently lives in the beautiful mountain resort town of Sun Valley, Idaho. He loves history, mythology, and the fantastical interpretations that have been incorporated in his debut Young Adult urban fantasy series called Sonora.
Stay connected with
T.S. Hall
~~~~~
***The Giveaway***
Giveaway Open Internationally
a Rafflecopter giveaway
Blog Tour Organized by