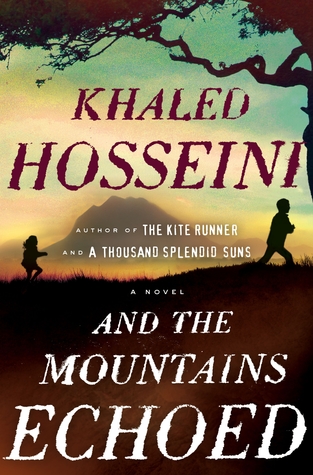 Genre:
Publish Date:
Publisher:
Synopsis:
An unforgettable novel about finding a lost piece of yourself in someone else.
Khaled Hosseini, the #1 New York Times–bestselling author of The Kite Runner and A Thousand Splendid Suns, has written a new novel about how we love, how we take care of one another, and how the choices we make resonate through generations.
In this tale revolving around not just parents and children but brothers and sisters, cousins and caretakers, Hosseini explores the many ways in which families nurture, wound, betray, honor, and sacrifice for one another; and how often we are surprised by the actions of those closest to us, at the times that matter most.
Following its characters and the ramifications of their lives and choices and loves around the globe—from Kabul to Paris to San Francisco to the Greek island of Tinos—the story expands gradually outward, becoming more emotionally complex and powerful with each turning page.
And The Mountains Echoed is now available!
About the Author
Khaled Hosseini was born in Kabul, Afghanistan, in 1965. His father was a diplomat in the Afghan Foreign Ministry and his mother taught Farsi and history at a high school in Kabul. In 1976, the Foreign Ministry relocated the Hosseini family to Paris. They were ready to return to Kabul in 1980, but by then their homeland had witnessed a bloody communist coup and the invasion of the Soviet Army. The Hosseini's sought and were granted political asylum in the United States, and in September 1980 moved to San Jose, California. Hosseini graduated from high schol in 1984 and enrolled at Santa Clara University, where he earned a bachelor's degree in biology in 1988. The following year he entered the University of California, San Diego, School of Medicine, where he earned a medical degree in 1993. He completd his residency at Cedars-Sinai medical center in Los Angeles and was a practicing internist between 1996 and 2004.
Read more about the author, here:
KhaledHosseini.com
Khaled Hosseini is one o the most widely read and beloved novelists in the world, with more than ten million copies of The Kite Runner and A Thousand Splendid Suns sold in the United States, and more than thirty-eight million copies sold in more than seventy other countries worldwide. Hosseini is also a Goodwill Envoy to the United Nations High Commissioner for Refugees, the UN Refugee Agency, and the founder of The Khaled Hosseini Foundation, a nonprofit that provides humanitarian assistance to the people of Afghanistan. He lives in Northern California. To learn more about his foundation, please visit khaldehosseinifoundation.org.
Khaled Hosseini's other best-selling novels
NOTE: This review contains NO spoilers
I was profoundly touched by the lives of each of the characters as I read their stories. Khaled Hosseini, again, has out done himself in delivering another riveting, yet compassionate, novel about life, love and family...and family doesn't necessarily mean a blood relation. Hosseini has an amazing ability to bring his characters to life. The novel took me on their journey, over generations, of life, the people they interact with, and the choices they made. And, the amazing twist is that his characters weren't just random people. Each and every character had "crossed paths" in one way or another. In a sense, their stories "revolved" around each other...the decisions and choices they made was, in a way, a result of their lives being tied to each other...either in a direct or indirect way. In addition to their lives intersecting with each other, each character's story took me on a journey that spanned the globe...from Afghanistan, to Paris, to Tinos (a Greek island), and to Northern California. What also made this novel so compelling to read was that after the many years that passed and the many lives that were crossed, the emotional "ride" of coming back "full circle" made the story an overwhelmingly remarkable story of the relations that these characters had with each other. By the turn of the last page, I was completely taken by the complexities of how circumstances affected each character.
There's a statement, on the inside flap of the cover, I think sums up the entire novel...
An emotional, provocative, and unforgettable novel about how we love, how we take care of one another, and how the choices we make resonate through generations.
And The Mountains Echoed is an emotionally compelling story of life, love, family and the other lives that are intertwined with each other.
My rating: