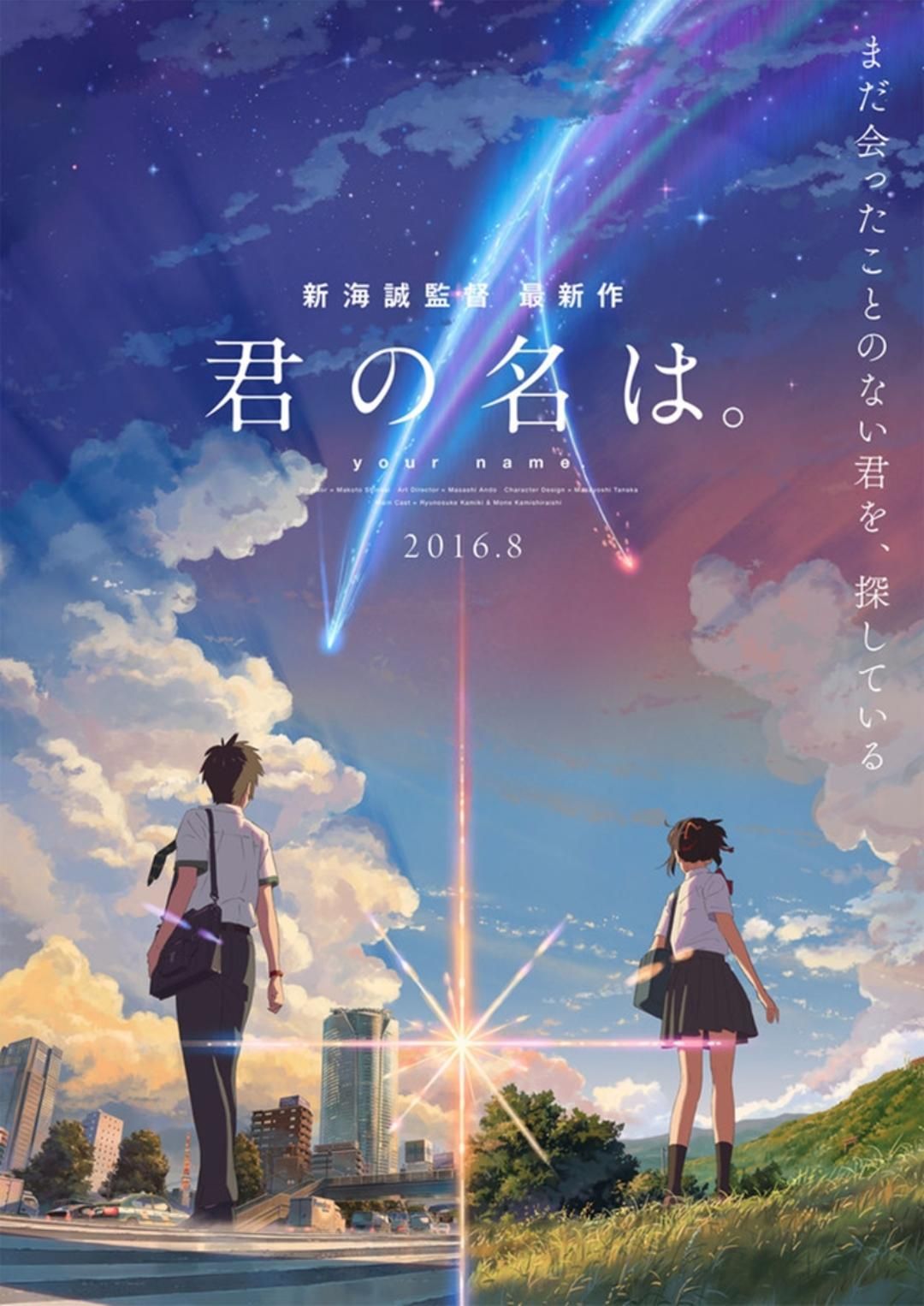 "I am searching for you, whom I have never met yet."
Genre:
Supernatural/Fantasy Romance
Rating:
Run Time:
Release Date:
Producers:
Kadokawa Shoten, Toho Company, Lawson HMV Entertainment, Amuse, East Japan Marketing & Communications
Licensors:
Studios:
Directed and Written by:
Voice Cast:
Mone Kamishiraishi, Ryunosuke Kamiki, Kana Hanazawa, Masami Nagasawa
Plot Summary:
The story is set one month after a comet has fallen for the first time in a thousand years in Japan. Mitsuha, a high school girl living in the countryside, wants to live in the city because she is tired of life in the country. Then, there's Taki. He's a high school student living in Tokyo with his friends while working as a part-timer at an Italian restaurant. He also has a strong interest in fine arts involving architecture. One day, Mitsuha dreams of herself as a young man. On the other hand, Taki also has a dream where he is a female student attending high school in the countryside. What's the secret behind their dreams?
*My Thoughts*
"Time travel just seems to be a popular theme for some reason."
The synopsis of the movie is a wonderful introduction to the beauty that unfolded. Kimi no Na Wa or "Your Name," in English has the basic countryside girl who wants to move into the hustle and bustle of a big city but her male counterpart wants to live the life of an architect/artist. A bit cliché but as the story progresses, they become more meaningful for us the viewer and for each other. Mitsuha is kind, quiet, sweet, and dreams big. She's cute like many protagonists her age, she can become determined when there is danger and selfless. Taki is a regular teenager living in Tokyo, so I wouldn't call his role special if it weren't for his affiliation with Mitsuha. He's a bit stagnant in comparison but Taki grows on you as he tries to meet with the girl in his dreams and shows his confidence. The supporting characters weren't completely missing and some had major roles in progressing the story when the main protagonists couldn't do it alone.
"My grades can sink, but ships better sail."
The imagery is beautiful, vibrant, and brings the story to life. The sound, music, and voice acting were on point. Why do you cry during a "sad" scene in a movie? Perhaps 90% of the time it is the music that coordinates perfectly with story and sounds at the right moment. Kimi no Na Wa is touching and beautiful. The reference to the "red thread of fate" is one of my all-time favorite anime tools that was incorporated skillfully, as it is woven into Mitsuha's life through her Shinto lineage. I enjoyed the effort Shinkai had written into characters to show their awkward moments, their emotions, and reactions. It wasn't too farfetched that two people who dream about each other would end up having an empty feeling, that they are missing something. But I don't think anyone now-a-days would act on feelings and dreams to bring them closer to some stranger miles away.
Kimi no Na Wa was a recommendation from a friend and I don't regret taking my time to watch it. It starts of quickly with what is given in the synopsis and keeps the viewer's attention to the very end. There is suspense, romance, not much action but that's no necessary for this movie, some heart break, and "feels" that I did not want before bed.
My rating: