Welcome to the Official Blog Tour for Raven, the second exciting novel in the Legends Saga, by Stacey Rourke!
Genre:
New Adult Paranormal Suspense/Thriller
Series:
Publish Date:
Publisher:
Editor:
Cover Design:
Format:
Synopsis:
An infamous love, destined nevermore,
For death could not claim, the enchanting Lenore.
Cursed by the malevolent spirit of the Headless Horseman, Ireland Crane ventures to Manhattan in search of a way to break her soul crushing bond. Instead, she discovers the lines between fact and fiction are blurring once more. Croaking ravens. Telltale hearts. Could the works of Poe be coming to pass with handsome Wall Street Midas Ridley Peolte as their unwilling target?
She walks the Earth, a plague on mankind,
searching for he, her rotted heart doth pine.
Together, the two unknowingly release a dark force death itself cold not tame. Surrounded by the unrelenting violence and mayhem they've unleashed, Ireland feels her control over the Horseman slipping. Before the beast within consumes her, she and her crew must follow the clues of the dead to right a centuries' old wrong. Will it be enough to sate the Horseman's appetite?
Hell hath no fury like a ghoul scorned.
Sequel to: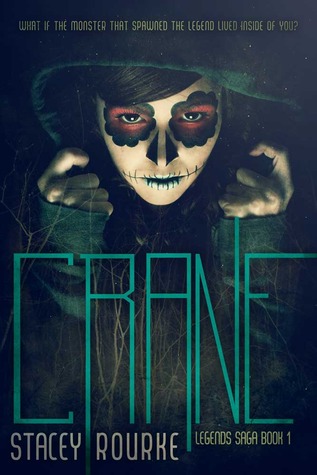 **About the Author**
RONE Award Winner for Best YA Paranormal Work of 2012 for Embrace, a Gryphon Series Novel
Young Adult and Teen Reader voted Author of the Year 2012
Turning Pages Magazine Winner for Best YA book of 2013 & Best Teen Book of 2013
Stacey Rourke lives in Michigan with her husband, two beautiful daughters, and two giant, dogs. She loves to travel, has an unhealthy shoe addiction and considers herself blessed to make a career out of talking to the imaginary people that live in her head. Mark your calendars! Her latest literary adventure, Crane, will release May 26, 2014. She is currently hard at work on the continuations of this thrilling Legends Saga, as well as other literary projects.
Stay connected with Stacy Rourke
*My Thoughts*
Note: This review contains no spoilers
Amazing! What a sequel! Again...Stacey Rourke interweaves and twists the macabre and supernatural with the reality of these characters! And...this time, it's not just Washington Irving's tale of The Headless Horseman, Raven interweaves Edgar Allan Poe's macabre and twisted tale(s) into Ridley's reality. This is another incredibly imaginative and ingenious retelling of the classic tales from these classic writers.
Raven begins where Crane left off when Ireland, Noah and Rip leaves Sleepy Hollow to find answers for the curse that Ireland has been inflicted with. This little group soon finds more than what they were looking for when their paths cross with Ridley Peolte. They are soon on another supernatural and dark adventure as more questions need answers. Doesn't look like Ireland is alone in having to deal with the blurred lines between fact and fiction.
Stacey Rourke has amazed me...again...with each character's sense of humor and sarcasm, especially their witty banter. With the twist of history and present time, Raven tells the tale of Ridley and Edgar Allan which reveals how closely they are tied to each other. Yet again, we are introduced to another who is cursed via familial ties. But, of course, you have to read Crane since this first book of the Legend Saga introduces readers to these crazy, yet intriguing, characters. I was totally immersed in this story that intertwined the classic tales to these characters' present day with a twisted and sinister plot.
Raven is definitely a grim and compelling story between fact and fiction that will keep you turning the page.
My Rating:
***The Giveaway***