Welcome to the Official Blog Tour for By Sea, the first novel in the Supernatural Renegades Series, by Carly Fall!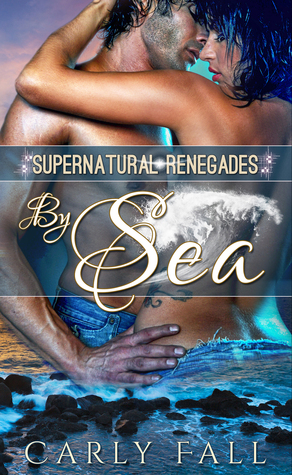 Genre:
Adult Paranormal/Supernatural Romance
Series:
Supernatural Renegades Series, #1
Publish Date:
Publisher:
Synopsis:
While fighting the War on Drugs in Latin America, Marine Brody Teller was involved in an accident that left him with a supernatural power: a deep connection to the sea and the ability to control it.
When the mysterious Joe Smith approaches him with an incredible job offer, Brody thinks it's too good to be true. His life-saving need and his desire to be near the ocean while earning a living are rolled into one perfect job.
Rayna Lopez lives a quiet life as she tries to climb her way up the CIA ladder, always in fear the government will learn of her family lineage. When her father asks for help getting her famous and belligerent half-sister out of trouble, Rayna reluctantly agrees to travel with her and they board a yacht where they will be protected.
Brody and Rayna realize they've met before, and despite a significant lack of trust between them, they face an attraction neither can deny. As they fight to keep Rayna's sister alive, lies are revealed and secrets are told. They must both learn to trust each other, and—if they live through their voyage—figure out what to do about their whirlwind romance.
*Excerpt*
Taking a deep breath through her snorkel, she looked back at the fish. Reds, yellows, and blues . . . it seemed every color of the rainbow was represented on swarm of beauty before her. About ten feet away, Margarita let go of another handful of cat food, and the fish teemed around her as they fed. Rayna found it mildly amusing that the fish seemed to adore the cat food, and cats loved fish.
She glanced over at Brody again, and he motioned her to follow him. She caught up with him, and they swam together, the sun warming her back. When they were out of range from Margarita and Jason, Brody laced his fingers with hers.
Rayna looked up and saw they were headed for the caves. Katie had said the fish inhabiting them were different, and Rayna looked forward to the exploration.
As they entered the cave, the light waned, but Rayna caught movement out of the corner of her eye. She turned to see a thin, dark, four-foot long fish emerge from the darkness. She gasped and grabbed Brody's arm as the fish swam out of the cave.
Rayna lifted her head, and Brody did the same.
"That was a barracuda," he said after removing his mouthpiece.
"That thing was huge!" Rayna exclaimed, her heart still pounding with fear.
Brody chuckled and pulled her close to him, removing his mask, and then hers. "Is Ms. Hot CIA afraid of a little fish?"
Rayna laced her arms around his neck, thankful the ocean gave them such buoyancy. "Yes," she murmured, as he peppered her neck with slow kisses.
"Don't worry about him," Brody whispered, his voice barely audible over the waves lapping at the rocks in the cave. "Barracudas don't like humans. He has no desire to nibble on your toes. Now on the other hand, I'm a different story. I want to lick, suck, and nibble every inch of you. If there's anything you should worry about, it's me."
Rayna laughed despite the bolts of heat coursing through her. Her heart still pounded, but she knew it was from Brody's touch, not fear. His lips met hers in slow exploration.
"So I should actually be worried about my Captain who has promised to protect me?" she teased.
"Oh, yes, Rayna," he whispered in her ear. "You should be very worried about what I plan to do with you.
Book Soundtrack for By Sea
By Sea has been described as "amazing and suspense filled storyline about betrayal, government secrets and finding love."
Renegade - Styx
Hitchin' A Ride - Bankie Banx
It's Five O'clock Somewhere - Jimmy Buffett
Give Me The Simple Life - Patrick Ki
Sugar, We're Going Down Swinging - Fall Out Boy
Little Lies - Fleetwood Mac
Interstate Love Song - Stone Temple Pilots
Dirty Deeds Done Dirt Cheap - AC/DC
Bringing It Out - Bankie Banx
**About the Author**
Carly Fall is a wife, a mother and a slave to the dog, Nicky.
She loves to laugh, thinks chocolate and wine should be considered their own food group, and wishes Christmas happened twice a year.
She is the author of the award winning and Amazon best selling series, the Six Saviors, as well as paranormal and contemporary romance.
Stay connected with Carly Fall
***The Giveaway***